Category :
Product Design
실내 벽면을 활용해 바로 손 닿는 곳에 메모지를 간수하거나 주방용 칼을 보관하는 것은 물론, 그밖에 온갖 자질구레한 물건들도 수납할 수 있다.
벽면을 활용한 수납 방식 중 하나는 바로 페그보드(pegboard)로, 구리 냄비가 줄줄이 걸려 있는 줄리아 차일드(Julia Child)의 주방용 페그보드가 그 대표적인 예이다. 위 사진에 보이는 휴먼 크래프티드(Human | Crafted)의 페그보드는 일반적인 이 수납 방식에 기능성과 장식성을 가미한 것이다. 보드 몸체는 CNC 공정을 이용해 호두나무 목판으로 만들었으며, 나일론 소재의 고리와 걸이는 3D 프린팅으로 제작하였다. 여기에 1.5 미터 길이의 고무끈을 더해, 또 하나의 수납 방식을 제공하고 있다.
NL 아키텍츠(NL Architects)가 디자인한 드로흐(Droog)의 '스트랩(Strap)'은 친숙한 물건을 새롭게 활용한 또 다른 예로, 자전거 뒷자리에 짐을 실을 때 쓰이는 줄을 이용한 수납용품이다. 실리콘 고무로 만든 이 줄을 이용해 전화기, 열쇠, 리모컨, 책, 공구 등을 걸어 놓을 수 있다. 모든 물건이 눈에 보이는 곳에 있어야 일에 능률이 오르고 직성이 풀리는 사용자들에게 제격이겠지만, 그렇지 않은 사람들에게는 더 어수선해 보일 수도 있겠다.
폴리에스테르 라텍스 밴드를 이용한 '나오루프 로프트(naoLoop Loft)' 역시 '스트랩'과 동일한 방식의 수납용품이지만, 레이저 컷 공법의 스테인리스 강판(이나 파우더 코팅 강판)에 밴드를 고정시켜 놓은 것이 특징이다. 이러한 강판이 시각적인 재미를 줄 뿐만 아니라, 벽이 더러워지거나 손상되는 것도 막아준다.
조시 오웬(Josh Owen)이 디자인한 콘텍스튀어(Kontextür)의 '행잉 라인(Hanging Line)'은 실리콘 줄 하나가 전부인 수납용품이다. 물건을 줄에 널거나 고리에 걸어 두는 방식이다. 원래는 욕실용으로 디자인한 것이지만, 다른 공간에도 얼마든지 사용할 수 있다. '스트랩'이나 '나오루프 로프트'에 비하면 수납할 수 있는 물건에 제한이 있겠지만, 일반적인 수건걸이보다 훨씬 쓸모 있는 수납용품임에는 분명하다.
벽면을 활용한 수납용품을 얘기할 때 빼놓을 수 없는 것이 바로 도로시 베커(Dorothee Becker)가 디자인한 비트라(Vitra)의 '우텐실로(Uten.Silo)'이다. 1969년에 첫선을 보였으며, 이듬 해인 1970년에는 더 작은 버전도 출시된 제품이다. 다양한 크기와 모양의 수납 통에 몇 개의 고리까지 갖춰져 있는 '우텐실로'는 갖가지 물건을 편리하게 보관할 수 있으며 수납해 놓은 물건을 찾기도 쉽다.
노트 디자인 스튜디오(Note Design Studio)가 디자인한 셀레티(Seletti)의 '교외(Suburbia)'는 한눈에 보기에도 '우텐실로'에서 영감을 얻은 제품이다. 하늘에서 내려다본 교외 주거지의 모습을 연상시키게끔 외형에 변화를 주었으며, 플라스틱이 아니라 목재로 만들었다는 것 역시 다른 점이다. 하지만 정리정돈이라는 관점에서 봤을 때 가장 눈길을 사로잡는 부분은 선반과 코르크 판을 더해 수납 방식을 다양화한 점이다.
올리13(Oli13)의 '루이스 수납장(Luis Organizer)'은 MDF로 제작하였으며, 수납 칸의 수가 상대적으로 더 적은 대신 공간은 넓어 책이나 노트 같은 것을 꽂아두기에 좋다. 하지만 볼펜처럼 작은 물건을 넣어 두었다가는 잃어버리기 십상일 듯하다.
분(Boon)의 '스태시(Stash)'는 책상 위에 두거나 벽에 부착해 융통성 있게 사용할 수 있는 수납용품이다. (허브스트 프로덕트(Herbst Produkt)가 디자인한 벌집 모양의 수납용품 '하이브(HYVE)'와 유사한 제품이다.) 아이들이 쓰는 잡동사니를 정리하기 쉽게 디자인한 제품이지만, 다른 용도로도 얼마든지 이용할 수 있다.
지금까지 살펴본 제품들에는 모두 한 가지 한계가 있다. 이미 정해져 있는 구성 방식을 따라야 할 뿐, 수납 용기의 개수나 크기를 사용자가 선택할 수 없다는 점이다. 그러나 이제부터 소개할 다양한 벽걸이형 포켓들은 자기만의 구성을 원하는 사람들이나 (공간의 부족 등으로 인해) 약간의 수납 도구만 필요한 사용자들을 위해 낱개 형태로 디자인한 제품이다. CB2의 벽걸이형 포켓은 한 가지 단점이 있다. 바로 벽에 고정시키는 쇠붙이가 눈에 보인다는 점. 하지만 기능적으로는 더할 나위 없이 훌륭한 제품이다.
앰퍼샌드(Ampersand)의 벽걸이형 포켓은 재생 판지로 만들었으며, 도배용 접착제나 루핑 못(roofing nail)으로 벽에 부착하면 된다. 펼쳐진 상태로 배송되지만, 홈이 나 있어 조립이 용이하며 앞뒤 구분 없이 뒤집어 조립해도 무방하다.
얼비오(Urbio)도 자사의 실내용 수직 정원 시스템(indoor vertical gardening system)을 원예 이상의 용도로 사용할 수 있다는 점을 깨달은 듯하다. 벽면 부착형 타일에 네 가지 폴리프로필렌 용기를 자석으로 고정시켜 다양하게 배치하면 얼비오의 이 시스템은 최적의 수납용품이 된다. 돈을 아끼고 싶은 알뜰한 소비자라면 두 종류의 세트 중 하나만 구입해도 좋다.
시몬 레갈(Simon Legald)이 디자인한 노르만 코펜하겐(Normann Copenhagen)의 폴리프로필렌 '포켓(Pocket)'은 네 가지 크기와 여섯 가지 색상을 구비하고 있어, 선택의 폭이 넓은 수납용품이다. 레갈의 얘기대로 "크기가 다양해 사용자 개인의 필요에 따라 편리하게 사용할 수 있다." 슬라이드형 브래킷으로 벽면에 감쪽같이 고정시킬 수 있으며, 식기 세척기 안에 두고 쓸 수도 있으니 이래저래 쓸모가 많은 제품이다.
Originally Published by Core77 (www.core77.com)

위딩스의 발전이 놀랍다.
2009년 저울을 만들어서 Wifi로 전송해서 체중 조절이나 하는 회사인줄 알았는데
5년이 흐른 지금 보니 놀라운 신제품을 많이 개발했네~ 디자인 또한 Good~
병원에서 돌아다니며 진찰하는 로봇..멋지다~
로봇과 의료과 이렇게 결합하는구나~
The RP-VITA® robot was designed to transform the delivery of acute care by expanding the use of remote consults and increasing workflow efficiency. Developed by InTouch Health and iRobot, RP-VITA eliminates the need for telemedicine specific staffing and support with an array of intuitive, easy-to-use features that encourage physician adoption and clinical use.
AutoDRIVE capabilities allow RP-VITA to safely navigate and travel to selected destinations without requiring user guidance
ControlStation App for iPad® enables fast and easy access and control from anywhere
Cloud-based, SureCONNECT® infrastructure maintains reliable connections under highly variable network conditions
FDA clearance and HIPAA compliance assure safe and effective consults in high-acuity clinical environments
Scalable and upgradeable remote presence platform protects customer investment in telemedicine technology
데스크톱 3D 프린터는 집에서 버튼 하나만 누르면 손쉽게 시제품을 제작할 수 있는 쾌속조형(rapid prototyping) 시대를 열었지만, 비용이 많이 들어 접근성이 떨어지는 동시에 기존의 제조 방식보다 제품의 질 역시 훨씬 떨어진다. 결과적으로 아직까지 데스크톱3D 프린팅은 완제품 제작에 가용할 수 있는 현실적인 선택지가 아니다. 적어도 일반적인 가설 상으로는 그렇다. 그러나 뉴욕에서 활동 중인 이탈리아 디자이너 바바라 부사타(Barbara Busatta)와 다리오 부치니(Dario Buzzini)는 프린터에서 갓 나온 따끈따끈한 용기 세트 '머신 시리즈(Machine Series)'를 통해 이러한 가설에 도전장을 내민다.
부사타와 부치니의 공동작업은 이코사에드로(ICOSAEDRO)라는 스튜디오 이름으로 매년 함께 프로젝트를 진행하자는 약속을 통해 이루어졌다. 새로운 방법론을 배우기 위한 협력의 일환으로 매번 특정 재료나 기법에 중점을 둔 작업을 해나가기로 약속한 것이다. 그 첫 번째 시도로서 아이디오(IDEO)의 디자인 디렉터 다리오 부치니와 프리랜서 아트 디렉터인 부사타는 수지압출법(Fused Deposition Modeling; FDM)의 "수공업적인 작업 과정"에 끌렸다고 한다. 수지압출법이란 필라멘트 형태의 가느다란 플라스틱을 녹인 다음, 층층이 쌓아 올려 형상을 만드는 3D 프린팅 기술이다.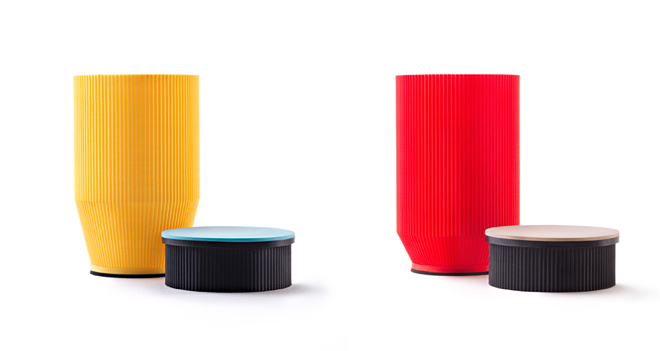 다섯 개의 용기와 뚜껑으로 이루어진 '머신 시리즈'. 세 가지 모양의 검정색 용기와(맨 위) 빨강색, 노랑색 용기로(위) 구성되어 있다.
지금까지 수지압출법은 고급 제품의 디자인과는 분명 거리가 먼 것이었다. "현재 수지압출법은 자질구레한 장식용 소품이나 미니어처 피겨와 동의어"라고 부치니는 말한다. 하지만 그와 부사타는 불완전한 이 기술에 새로운 차원의 수작업을 도입할 수 있다고 보았다. "수공예의 미래상에 대한 우리의 관점을 표현할 수 있는 적절한 출발점"이라고 생각한 것이다.
우선 부사타와 부치니는 시험적으로 기본적인 형태를 프린트하는 데서 시작해, 점차 유기적이고 복잡한 형태로 발전시켜 나갔다. 이러한 과정을 통해 그들은 재료, 3D 모형의 특성, 국지적 기후조건 등 (주변 온도에 따라 플라스틱을 식힐 때 뒤틀리는 양태가 달라진다) 최종 결과물에 영향을 미치는 핵심 요인들을 파악할 수 있었다. "여러 차례 시행착오를 거치자, 어떤 형태와 비율이 가장 효율적이고 일관된 결과를 가져오는지3D 프린터 자체가 우리에게 알려주더라." 부치니의 말이다.
두 사람이 고민해야 했던 주요 기술적 난제는 두 가지로, 평면의 뒤틀림 현상과 제품 겉면의 마감 처리였다. 녹인 ABS 플라스틱은 프린터의 사출구(nozzle)에서 열판까지의 온도 차이에 따라 달라진다. 이런 점 때문에 공구 경로(tool path)가 만들어내는 '이음매(seam)'가 어쩔 수 없이 완제품에 남게 된다. 결국 부사타와 부치니는 이러한 결함을 적극 끌어안아 디자인에 결합시키는 방식을 선택했다. "그렇게 해서 제품의 횡단면에 '구불구불한 선'이 생기게 되었다"는 게 부치니의 얘기다. 용기 표면의 뚜렷한 골이 횡단면에 구불구불한 선을 만들어낸 것이다. "이음매가 제품 겉면의 디자인에 숨겨진 형태로 존재하게 된다. 훨씬 세련된 느낌을 자아내는 간단한 트릭인 셈이다."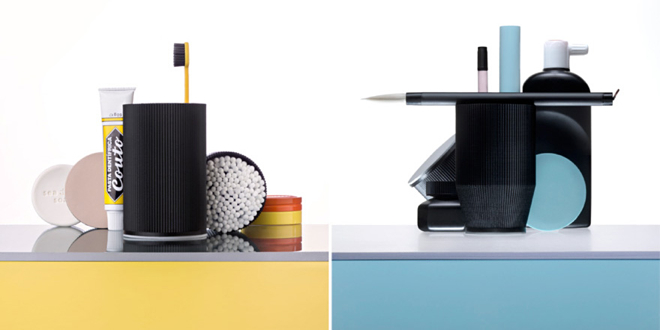 (위/ 아래) '머신 시리즈' 용기의 멋을 보여주는 정물 사진들
하지만 이러한 겉면의 골(과 뒤틀림 문제에 일조를 하는 2밀리미터에 가까운 두께) 때문에 부사타와 부치니는 어느 각도에서 보더라도 완벽한 수지압출법 제품을 만들 수는 없다는 사실을 받아들여야 했다. 용기 윗면과 바닥이 아직 미완성 상태처럼 보였던 것이다. 이에 두 사람이 선택한 방법은 3D 프린팅 작업이 끝난 후 용기의 바닥과 뚜껑에 EVA 소재를 한 겹 씌우는 것이었다.
용기 한 세트가 완성되기까지 걸리는 시간은 평균 일곱 시간이 조금 못 된다 (그중 여섯 시간이 프린팅 작업에 소요된다). '머신 시리즈' 용기에 관심 있는 사람은 개당42달러 정도의 가격에 낱개나 세트로 주문할 수 있다. 이 가격이 너무 비싸다고 생각하는 소비자라면, 본인의 데스크톱 3D 프린터로 집에서 직접 프린트할 수도 있다. 부사타와 부치니가 "오픈 디자인에 초대"하고자 '머신 시리즈'의 모든 파일을 본인들의 웹사이트에 올려놓은 덕분이다.
Originally Published by Core77 (www.core77.com)
1) 리트로의 2번째 카메라, 일룸(illum)은 사진을 찍을 때 프레임 안에 있는 모든 사물에 초점을 맞춰 방향과 색, 밝기, 거리 등의 정보를 기록한다. 덕분에 피사체를 촬영한 후 원하는 곳에 초점을 맞출 수 있다. 비결은 라이트 필드 엔진이다. 한 방향으로 들어오는 광선만 기록하는 기존 카메라와 달리 여러 방향에서 들어오는 광선의 방향, 빛 거리등의 정보를 기록한다는 게 그 핵심이다.
2) 2년반전에 소개된 첫번째 버전은 사각기둥으로 된 독특한 모양이었으나, 2번째 버전은 일반 미러리스 카메라에 가까운 형태를 취하고 있다. 뒷면엔 4인치 터치스크린 디스플레이를, 앞면엔 f2.0짜리 8배 줌렌즈를 달았다.

3) 2014년 7월 출시 예정이며 가격은 1599 USD로 책정되어있다. 현재 공식홈페이지에서 사전예약주문중이다.
4) 참고로, 리트로 카메라 갤러리에 가면 몇가지 샘플사진의 초점을 바꿔볼 수 있다. –> https://pictures.lytro.com/
출처 : http://monsterdesign.tistory.com
http://www.fibaro.com/en
M2M으로 세상이 변하고 있다.
어보브 반도체라는 회사는 시스템 반도체의 수요를 미래 말해주는 주가는 하늘 높은 줄 모르고 올라가고 있다.
10년 전 유비쿼터스 혁명이 지금 일어나고 있다.
어플리케이션 제작 소프트웨어 회사도 많은 제품을 컨트롤 할 수 있는 s/w 개발이 요구되고 있다.
Alarm systems
integration
The Sensor allows for integration with almost any available wired alarm system on the market.
Dual Tamper protection
Our flood sensor is beautiful, which makes it desirable to grab and take a closer look. We know and completely understand this. Any movement or relocation can stop the sensor from serving its role, that's why it will be detected thanks to the built-in motion detector. Any attempt to open it will be detected resulting in a report being sent to the main controller as well. Mind you, this is a very important device, bearing huge responsibility, monitoring our home and helping us react quickly.
---
Wherever needed
It's crucial to quickly detect potential threats of a breakdown. With the Fibaro Flood Sensor's compact size, various powering and alarm system communication possibilities, you are guaranteed to be the first one to know about a breakdown and flooding threat. The Sensor may be installed in hard-to-reach places. It can work in any location you need. Even if it can't be installed in the precise spot needed, you can always connect a wired probe to detect the leak in its best probable location.
*Wired probe is not included with the Flood Sensor.
---
Gold telescopic probes
Fibaro Flood Sensor is equipped with three ultra sensitive probes, plated with 24-karat gold. Sophisticated telescopic mechanism allows for placing the Sensor in any location, even on an uneven surface. Gold plating prevents the probes from corroding and provides the best precise liquid detection. All this allows you to respond quickly, before the breakdown outcome gets serious.
---
Opened enclosure alarm
For safety reasons, Fibaro Flood Sensor's enclosure is protected from being opened, turned off or destroyed. Detecting any tampering will result in household members being notified by SMS, Push or e-mail.
---
Visual Colour Display
One look is enough to find out what happened, thanks to the coloured indicator light. Depending on the Flood Sensor's built-in LED illuminated colour, you will know whether the Sensor has detected water, or a decrease / increase in temperature. With its built-in Z-Wave range tester you can easily determine whether the place you chose for the Sensor allows for communicating with the main controller or maybe you will have to use an external wired probe, to ensure the Sensor's proper operation.
---
Safety first
Even before our washing machine and bathtub give us a small flood, various plumbing gives us some warnings, so we should keep a closer eye on them. Small leaks by the bathtub drain or a tiny puddle next to the washing machine drain, definitely should peak our interest. However what to do when the tub is already built in, and leaks are too small to be seen? It's better to be safe than sorry, and set up a Fibaro System. Flood Sensor is a perfect solution in any location that we might suspect a leak to occur, even if access to the location is very difficult. Such a place might be in a built-in bathtub by the drain, built-in washing machine or dishwasher. Install the Fibaro Flood Sensor in hard to reach areas and have peace of mind. If even the smallest leak will appear, you will get advanced warning on your smartphone and you'll be able to call an expert.
* In case of an alarm, immediate information about the flood goes to your phone and tablet.
---
Difficult to submerge
The sensor is designed to work in the toughest conditions. It works properly at low or high temperatures, from -10°C* to 95°C*. It can handle any type of flood, whether it be fast or slow. The enclosure is waterproof, allowing for direct contact with the liquid and prevents submersion which would cause it to stop communicating. Only this type of sensor can guarantee your safety.
*By using the proper battery.
---
Rapid response
Flooding threat detected by the Fibaro Flood Sensor may result in Fibaro System automatically responding by closing water supply to prevent damage. It's enough to install a solenoid valve in your hydraulic system. The System will be able to operate it automatically via Fibaro Relay Switch connected to it. The Fibaro Flood Sensor in couple with a solenoid valve and a Relay Switch module, means a peace of mind for you, and safety for your home.
"…shut down the water supply…"
---
Underfloor heating
Floor heating is an amazing comfort for people and unfortunately a nightmare for the individual to control correctly. It is very difficult to determine the optimal temperature and turn off the heating at the right time to avoid uncomfortable temperatures. Thanks to the integrated temperature sensor, the Fibaro Flood Sensor will help you manage your floor heating. The Fibaro Home Center 2 will ensure that the temperature is ideal for your family's comfort, all while being as energy efficient as possible.
28°C
floor temperature
Did you know that…
Fibaro has a Universal Sensor that can be combined with an appropriately secured DS18B20 temperature sensor which can then be mounted under the floor surface and even covered with concrete.
---
It will prevent icing
Because the Fibaro Flood Sensor has no problem handling the harshest conditions, You can easily use it in front of Your house to control the temperature of your driveway. If your driveway is sloped, even the smallest amount of ice can cause your car to skid when you are leaving your garage. Icing can cause a lot of unnecessary accidents. The Fibaro Flood Sensor was perfectly designed to work with warming mats to prevent even the smallest formation of ice around your house.
-1°C
Temperature
---
…and helps you detect a fire
It's not afraid of extreme temperatures. Any sudden temperature change will trigger an alarm in the control panel* and the household will be alerted about it immediately on their mobile device. Thankfully the Fibaro Flood sensor can help detect a fire in its early stages, especially if there are any unknown problems with your current fire detectors. The Fibaro Flood Sensor is the perfect additional level of support for your fire alarm system.
80°C
Temperature
A Perfect Combination
Advanced device associations and extended scenes will allow Your Home Center 2 Control Panel to independently take appropriate steps immediately after detecting a risk of flooding or fire. Even after the smallest liquid detection near the washing machine, the Flood Sensor will send a signal to a Relay Switch which will cut off the solenoid water valve, and disconnect the washing machine which is connected to a Fibaro Wall Plug. In case of fire detection, a Relay Switch disconnects the solenoid gas valve, the control panel ensures lights that mark your escape route are illuminated, and the ventilation system runs at maximum level to get rid of the smoke. These are just some of the possibilities when you associate modules and devices in the Fibaro System.
…reaction adjusted
to your preferences…
---
Wireless Update
Fibaro Flood Sensor has been designed to get firmware updates automatically without any need for action taken from the individual user. Automatic software updates gives you convenience and piece of mind with the Fibaro System.
Update
in progress
---
Built in range tester
For your safety and security, and to make sure the flood sensor is working properly, it has been equipped with a built-in Z-Wave network range tester. Communication in wireless Z-Wave mesh network lets you stay connected with the control panel over a long distance and through indirect connectivity, using other Z-wave modules. Built-in LED will allow you to easily check if the sensor has a good range and can communicate with the Fibaro System or requires a different location.
Click to see how the Flood Sensor modul works.
1) Reed sensor
Installation of reed sensors in your home will provide the HOME CENTER 2 with additional information, which can be used to control other components of the Fibaro system. The module checks the condition of opening / closing any window or door. Opened window will prevent the system from launching heating or air conditioning in a particular room. Therefore, you will not be exposed to unnecessary costs. When mounting reed sensor on the front door, you can turn on the lights automatically when opening the door or run a pre-programmed scene e.g. "Return home". In addition,  the Door / Window Sensor can be used as an unauthorized intrusion alarm sensor. These are just some of the capabilities of the Door / Window Sensor.

Applications:

Door & Windows
Garage
door
Gates
2) Wireless entry sensor
The Door/Window Sensor may be used together with the HOME CENTER 2 to start any feature. Once the Door/Window Sensor input is connected with a typical wall switch it can control other components of the Fibaro system. The idea behind it is to enable the user to place a previously unplanned switch in a chosen location without the necessity to lay cables. The number and location of existing switches no longer limit the arrangement of your interior. The Door/Window Sensor can easily and non-intrusively take up the role of this element of the home electrical system.
3) Temperature sensor
The Door/Window Sensor module also works with the DS18B20 temperature sensor (sold separately). This tiny element is installed in the module inputs and added to the Fibaro system. Its installation is very simple. Simply place three leads in the inputs and secure them using the screws. The temperature sensor can greatly extend the number of features available with the Home Center. The reed sensor feeds the Fibaro system with information about an open window; the temperature sensor can collect the data necessary for automatic ventilation of a room without cooling it excessively. The temperature sensor may also be used during the planning of a temperature profile at the heating panel.

*DS18B20 sensor is sold separately
4) Pre programed scenes switch
The Door / Window Sensor has a unique feature can automatically trigger pre programed scences. To start a scene on the level of electric installation was difficult until now.  It required a Fibaro module, previously installed in an electric device, which could run a scene. This solution was not intuitive enough. Just to meet that customer expectation we gave the Door / Window Sensor the additional functionality to start scenes. Simply connect a traditional light switch or any sensor (e.g. motion detector) to the FIBARO module and indicate a pre-programmed scene to start. Therefore you gain a universal battery and completely wireless switch of multiple devices ready to work within a short time.
Applications:
| | | | | |
| --- | --- | --- | --- | --- |
| Button "leaving home / homecoming"  as on/off in the pre-defined devices. | | Connect a traditional switch to the FIBARO module and indicate a pre-programmed scene in HC2 to start.  Make a number of clicks on switch an indicator to run a specific scene. | | Switch, which in conjunction with the RFID reader (e.g. car module) will open the gate to the property, raise the door to the garage, start ventilation inside, turn on lights  on the driveway and the road to the house, and finally closes the gate. |
Extremely compact
The Door/window Sensor is extremely compact. It is the smallest unit of this type available on the market. Its extremely lightweight and thin design makes it almost invisible on every window and door.
Easy and fast installation
Installation of the module is very simple. Just remove it from the box, open the case, get rid of the protective film on the battery and stick it to the surface with the supplied double-sided mounting tape. Low power consumption reduces battery replacement to 2 years. The system will notify you in advance in case of low power status. Current battery consumption is always visible in HOME CENTER 2 configuration panel.

Intuitive installation
The user-friendly interface ensures an easy and intuitive way of adding devices to Fibaro System.  Door / Window Sensor installation is extremely simple. It does not exceed 3 minutes.
Adding sensor to Home Center 2
1) Go to the DEVICES section and click the "Add" button.
2) Home Center 2 will be set to LEARNING MODE.
3) Click the service button at the back of the sensor's casing.
4) Your Fibaro Door/Window Sensor is ready to operate.
Wireless update
The modern FIBARO Door / Window Sensor has been designed for wireless software updates. Every upgrade of the device takes place seamlessly and without your action. Full automation of the software update is the comfort and safety guaranteed by the Fibaro team.
Customized
The Fibaro Door / Window Sensor is available in seven colors. Select the best color match to your home interior design and enjoy the undisturbed beauty, security and comfort.
접이식 전기 스쿠터
Moveo foldable electric scooter will enter scooter market and revolutionize urban traffic with its beautiful organic design. It can be folded to size of a suitcase, very compact and lightweight (25kg without saddle bag). This e-scooter has been designed and developed to meet the needs of mobility in crowded urban traffic, it can reach up to 45km/h and 35km range. Its closed foldable body is so compact that you can easily store or move from one place to another using public transport, it doesn't require any parking space.
Currently the company is looking for investor to mass produce Moveo. Their mission is to create eco-friendly transportation, just in case you haven't heard about the company, they were among 50 best innovations by Time Magazine in 2010 for their hybrid concept car, Solo.
UPDATE : The team has launched a crowdfunding campaign on the JumpStartCity site to get the MOVEO scooter project to the next stage and start a limited series production.
Designer : Antro Group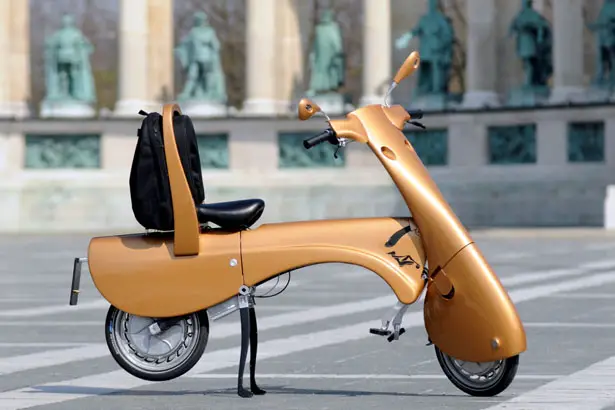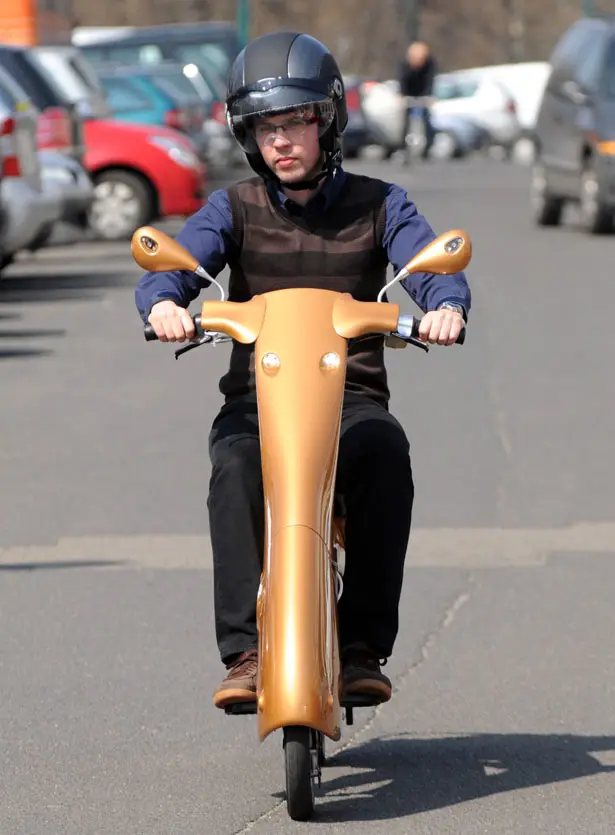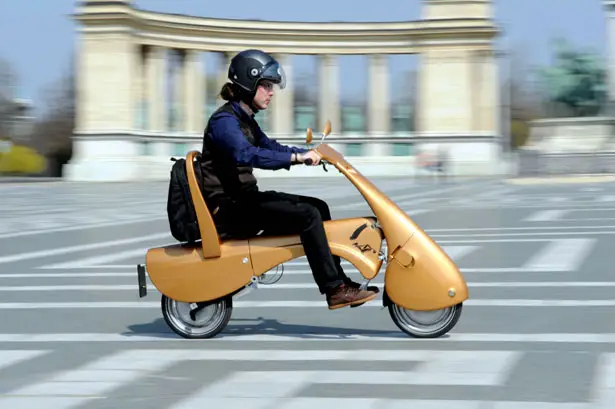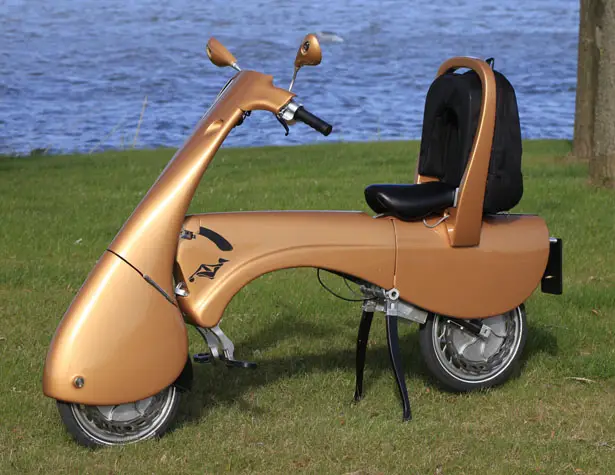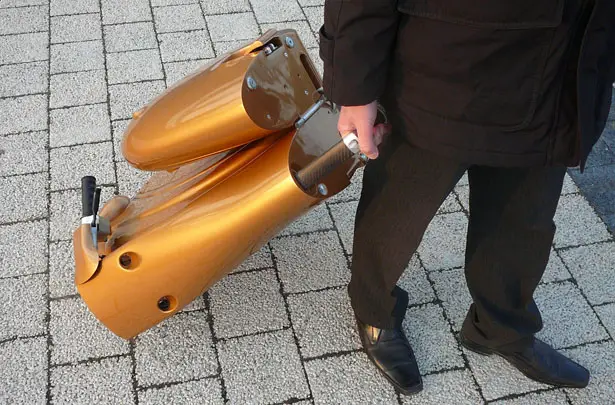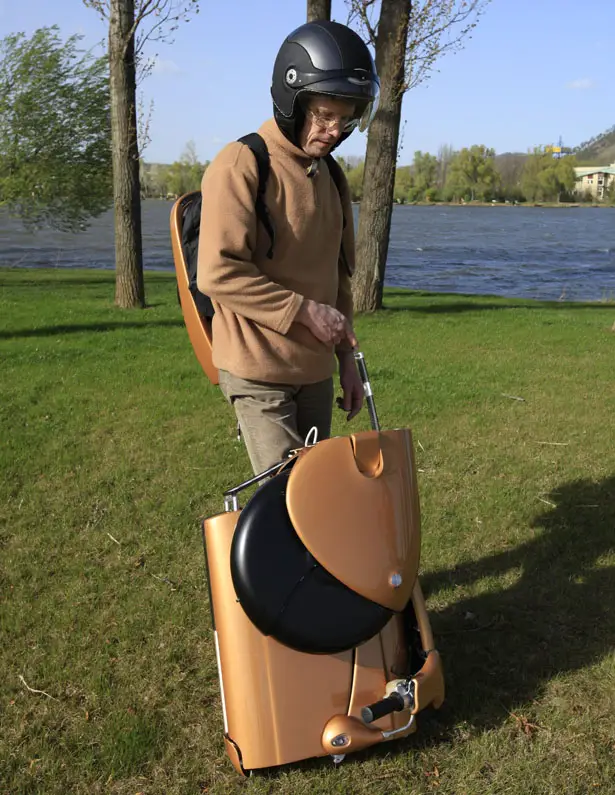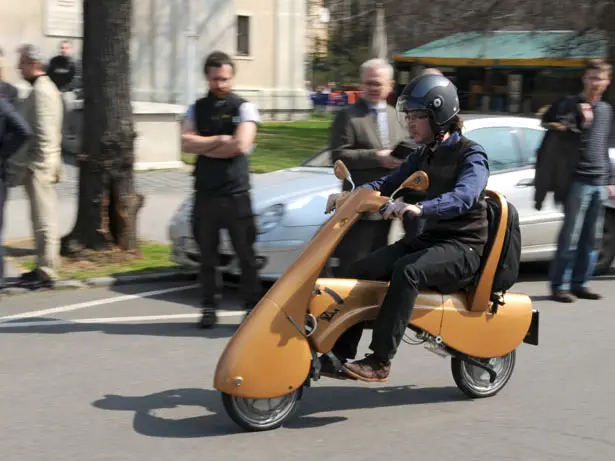 This entry was posted on 화요일, 4월 15th, 2014 at 04:40
You can follow any responses to this entry through the RSS 2.0 feed.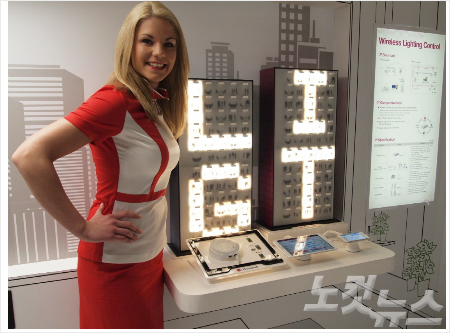 LG이노텍이 4월 4일까지 독일 프랑크푸르트에서 열리는 '조명 및 건축 박람회 2014'에 참가해 글로벌 시장 공략에 나선다.
LG이노텍은 최고 성능의 미들파워 패키지와 고효율 하이파워 패키지, UV(Ultraviolet rays) LED 패키지, 교류전원용 LED 모듈 등 제품 100여 종과 무선조명제어 시스템 등을 선보일 예정이다.
LG이노텍은 이번 박람회에서 기술 및 가격 경쟁력을 알리는 데 집중할 방침이다.
가장 주목할 제품인 미들파워 LED 패키지는 1W 이하의 전력에 최적화된 LED패키지로서 장시간 빛을 필요로 하는 실내조명에 적합하며 하이파워 LED 패키지는 장시간 동안 많은 광량을 필요로 하는 컨테이너 하역장, 주차장, 공원, 경기장, 도로 등 실외 조명에 최적화 돼있다.
이 박람회는 2년마다 개최되며 전 세계 50개국에서 조명, 건축과 관련 2300여개사가 참가해 조명, 전기 엔지니어링, 주택 및 건물 자동화, 건축 관련 소프트웨어 등을 출품하는 무대로 약 20만명이 참가하는 세계 최대 규모의 조명 행사이다.
LG이노텍이 공략 중인 유럽시장은 지난해 글로벌 LED조명 시장의 약 43%를 차지한 아시아 지역에 이어 두 번째로 큰 28%를 점유하고 있으며 2012년부터 모든 백열등의 생산 및 수입이 금지돼 이 지역 LED조명 보급은 더욱 가속화될 전망이다
This entry was posted on 목요일, 4월 3rd, 2014 at 06:05
You can follow any responses to this entry through the RSS 2.0 feed.
Logitech Conference Cam BCC950
| | |
| --- | --- |
| List Price: | $249.99 |
| Price: | $186.80 & FREE Shipping. Details |
| You Save: | $63.19 (25%) |
In Stock.
Ships from and sold by Amazon.com.
Want it Tuesday, March 18? Order within 
18 hrs 34 mins
 and choose 
One-Day Shipping
 at checkout. 
Details
All-in-one design combines HD video with high-quality audio clarity
The built-in, full duplex speakerphone and noise-cancelling microphone. Allows all meeting members to hear and be heard clearly up to 8 feet away from the base.
Omni-directional mic pickup and echo cancellation audio. Makes it seem like conversations are happening in the same room.
Remote control and base button control options. Quickly control camera pan, tilt and zoom and volume up/down, mute and answer/hang-up functions during call.
Broad application compatibility. Optimized for Microsoft Lync and Skype and works with most other popular UC platforms.
This entry was posted on 월요일, 3월 17th, 2014 at 04:26
You can follow any responses to this entry through the RSS 2.0 feed.